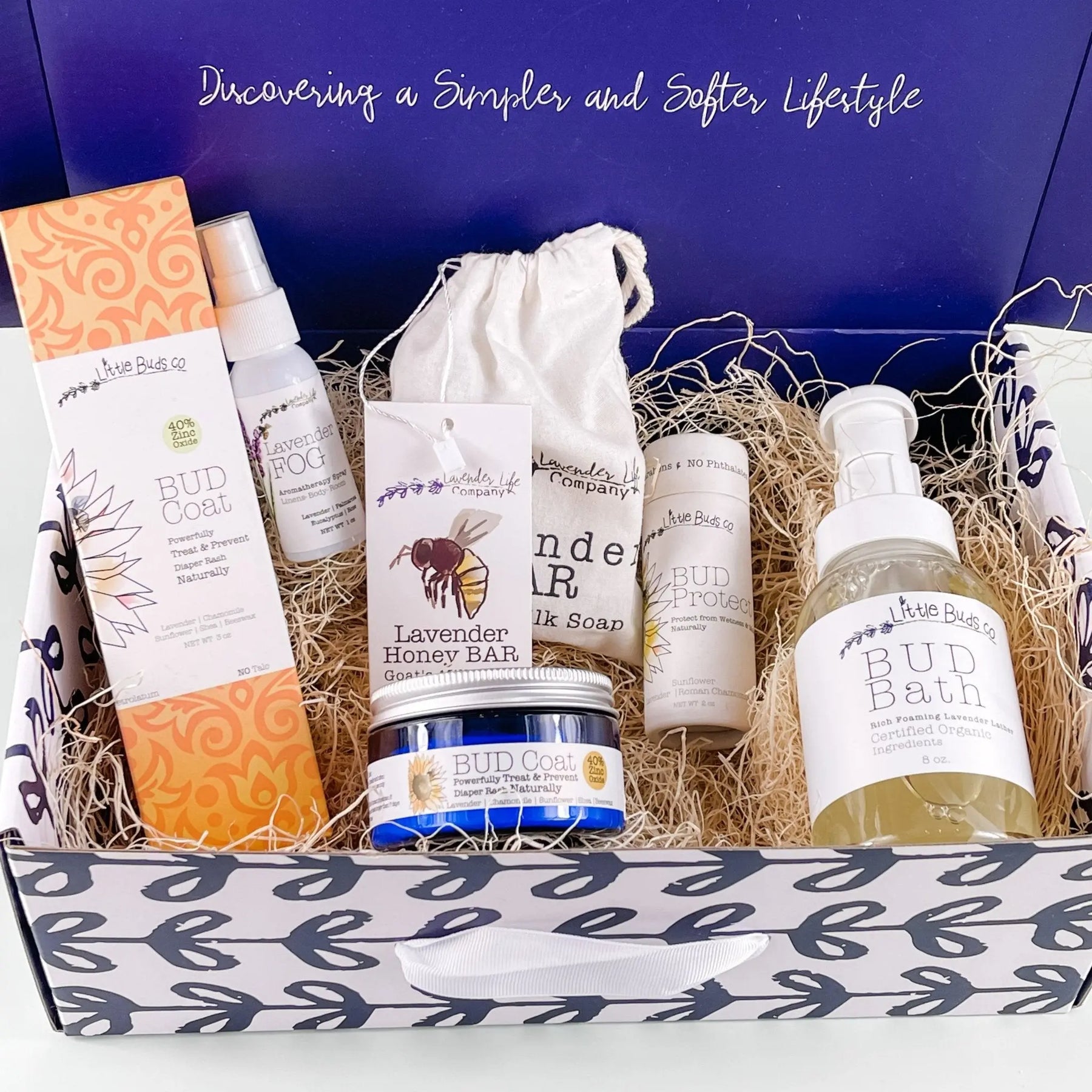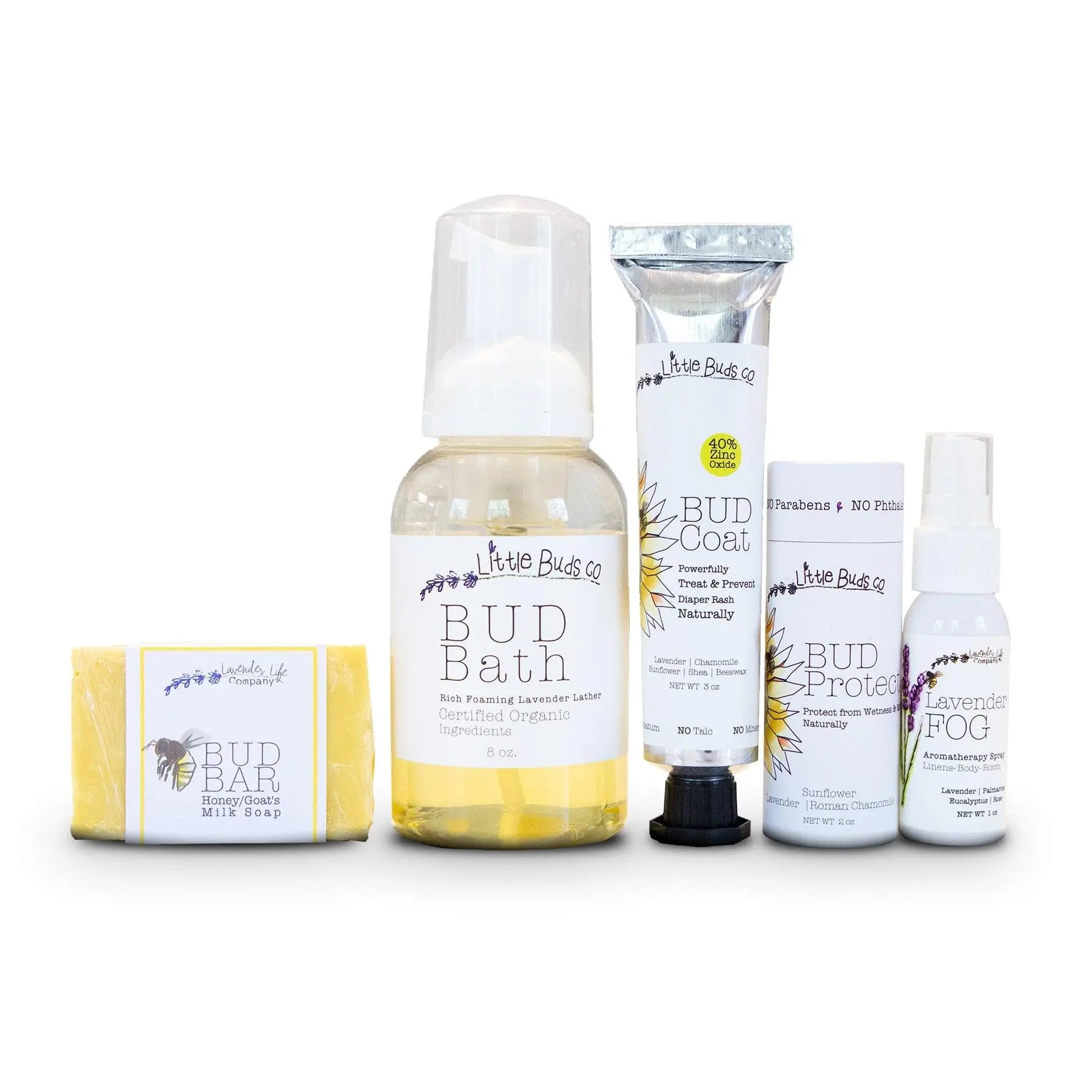 Lavender Bud Box - Baby Bath Gift Set
The perfect lavender gift set for babies - bath, skin care, diaper rash cream and more in soothing lavender scents for babies and newborns.
All products contain organic and all-natural ingredients which are perfectly formulated for Little Bud's delicate baby skin and contain No Parabens, NO Phthalates, NO Petrolatum, NO SLS!
Lavender Little Buds Baby Products can also help babies calm down and relax during your nighttime bath ritual to help promote better sleep.
Made at our family lavender farm in Caledonia, Michigan, USA.
We know how important it is to use high-quality baby skin care products and ensure that ours are made with all-natural ingredients that are safe to use every day! We grow all of our own lavender and source all other ingredients from reputable companies around the US. 
Each Lavender Bud Box comes beautifully packaged in our Signature Gift Box and includes 5 of our favorite baby skin care products!
Bud Bar: The Honey Bees and Nanny Goats helped us create this beautiful hand-crafted lavender soap for babies. This 100% all natural bar soap is extremely emollient for tender new skin with the healing properties of raw honey! Product details >
Bud Bath: Little Buds Co. Bud Bath Foaming Lavender Soap is an awesome, totally natural, gentle bath for baby's delicate skin. Bud Bath can also help to relax with the soothing scent of lavender to calm them down and help promote sleep. Product details >
Bud Coat: Powerfully Treat Diaper rash with 40% Zinc Oxide, Organic Lavender, Roman Chamomile, Shea Butter and Beeswax. See why our customers won't use any other diaper rash cream! Product Details >
Bud Protect: This soothing stick is an awesome natural solution to preventing diaper rash and moisturizing baby's skin with a no-mess, push-up tube. Product details >
Lavender Fog Aromatherapy Lavender Oil Spray to relax baby. Use on their skin, on linens or just spray the room. It's great for any water-safe surface. Just shake, mist and enjoy! Contains Lavender oil, Palmarosa, Eucalyptus and Rose. Product Details >
Bonus! Lavender Fog Spray Travel Size is perfect for throwing in a diaper bag, purse, or keeping it in the car for de-stressing baby - and you - anywhere! 
A Baby Gift Hit
I purchased this item as part of a baby gift, so didn't get the opportunity to actually "see" it. But I am told it was a big hit and the mom-to-be cannot wait to use it. Since everything else I have purchased has always been well received, I figured this one would be as well.
Best diaper rash cream ever!! The only cream we will ever use from now on. Eliminates any rash way faster than big brands like Desitin.
Baby gift set
It was a very special gift to give my daughter and son in law for their new baby.
Honey Bar Soap for Babies, with Lavender & Goat's Milk
A great baby shower gift!
I saw this and right away said, "This will make a great baby shower gift, not like anything else!"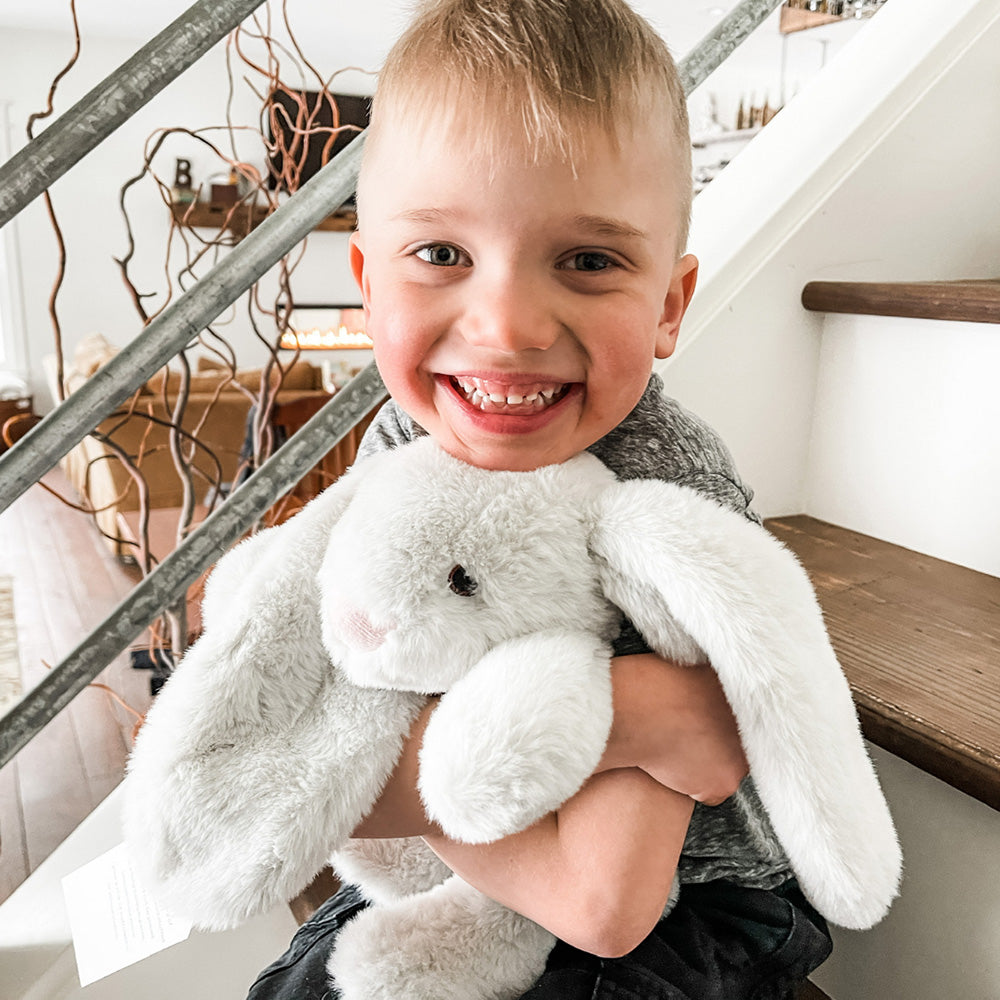 79,676 Xander Friends Donated
How We Give Back
For each and every Xander Bunny you purchase, we donate one to a child in foster care. This soft, warmable animal is filled with fresh Lavender flowers, grown in our fields, and soothing Michigan cherry pits. Designed for anyone who wants a bit of comfort or relaxation, this cuddly friend makes the perfect companion. Our mission is to give a warmable, Lavender filled Xander Bunny to every child in foster care.