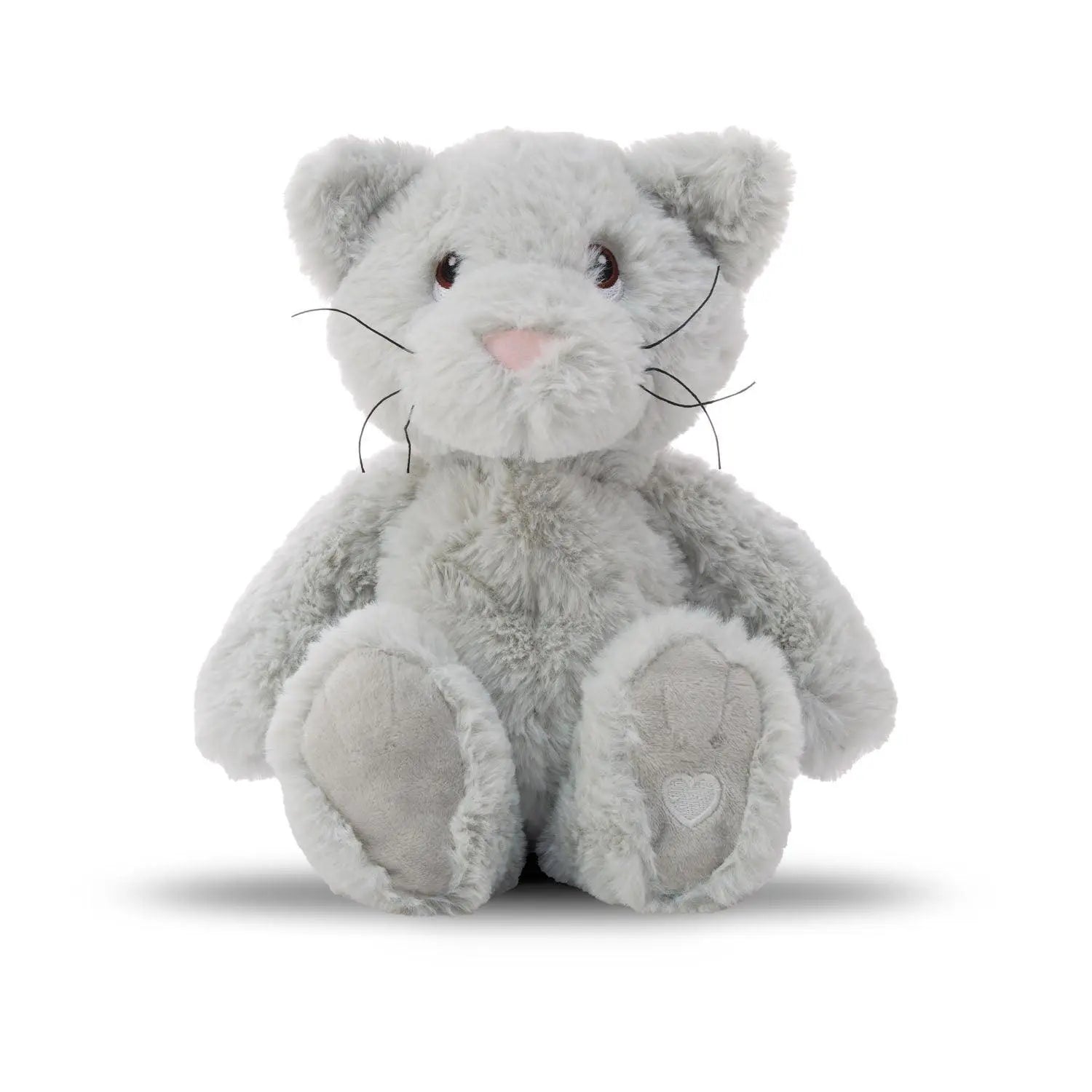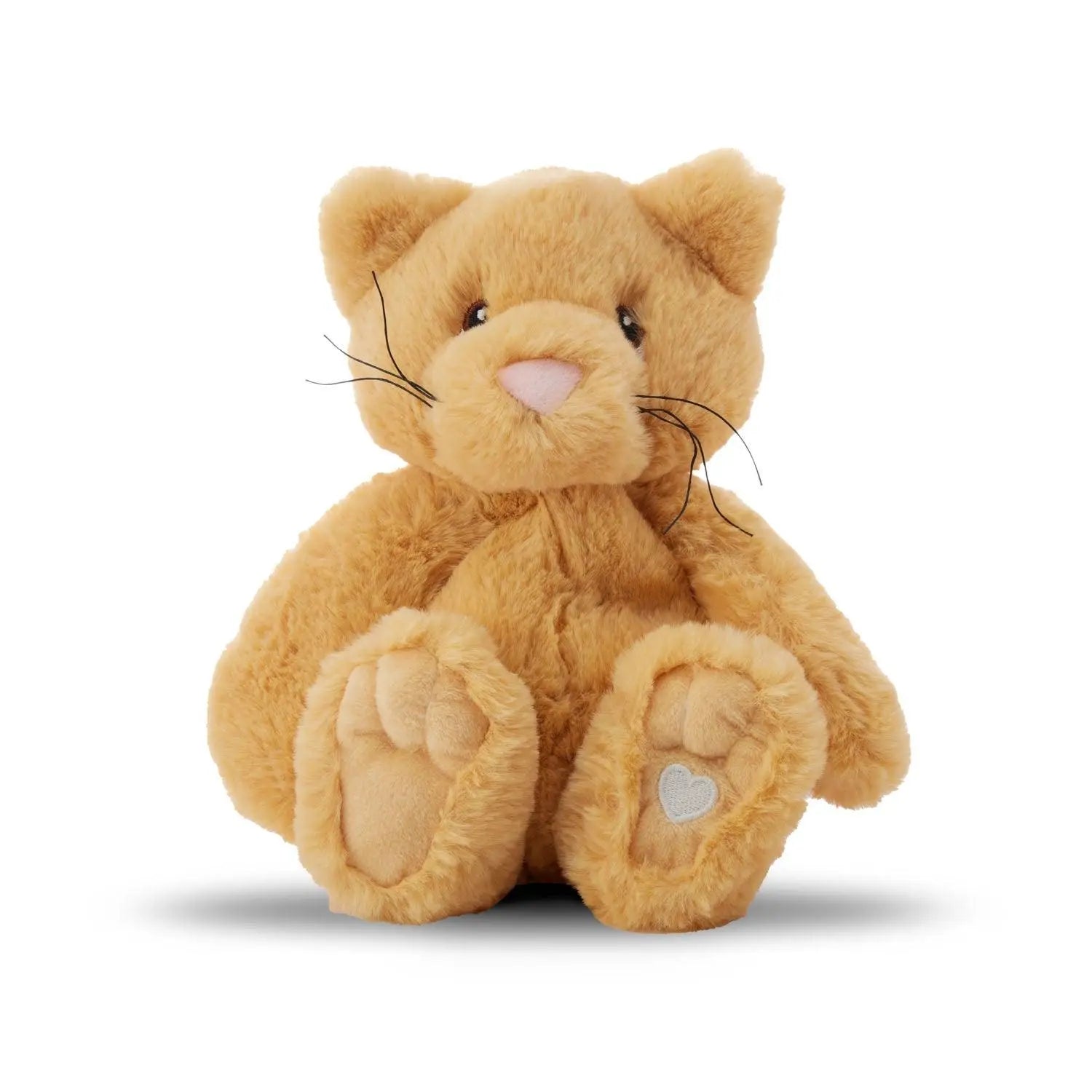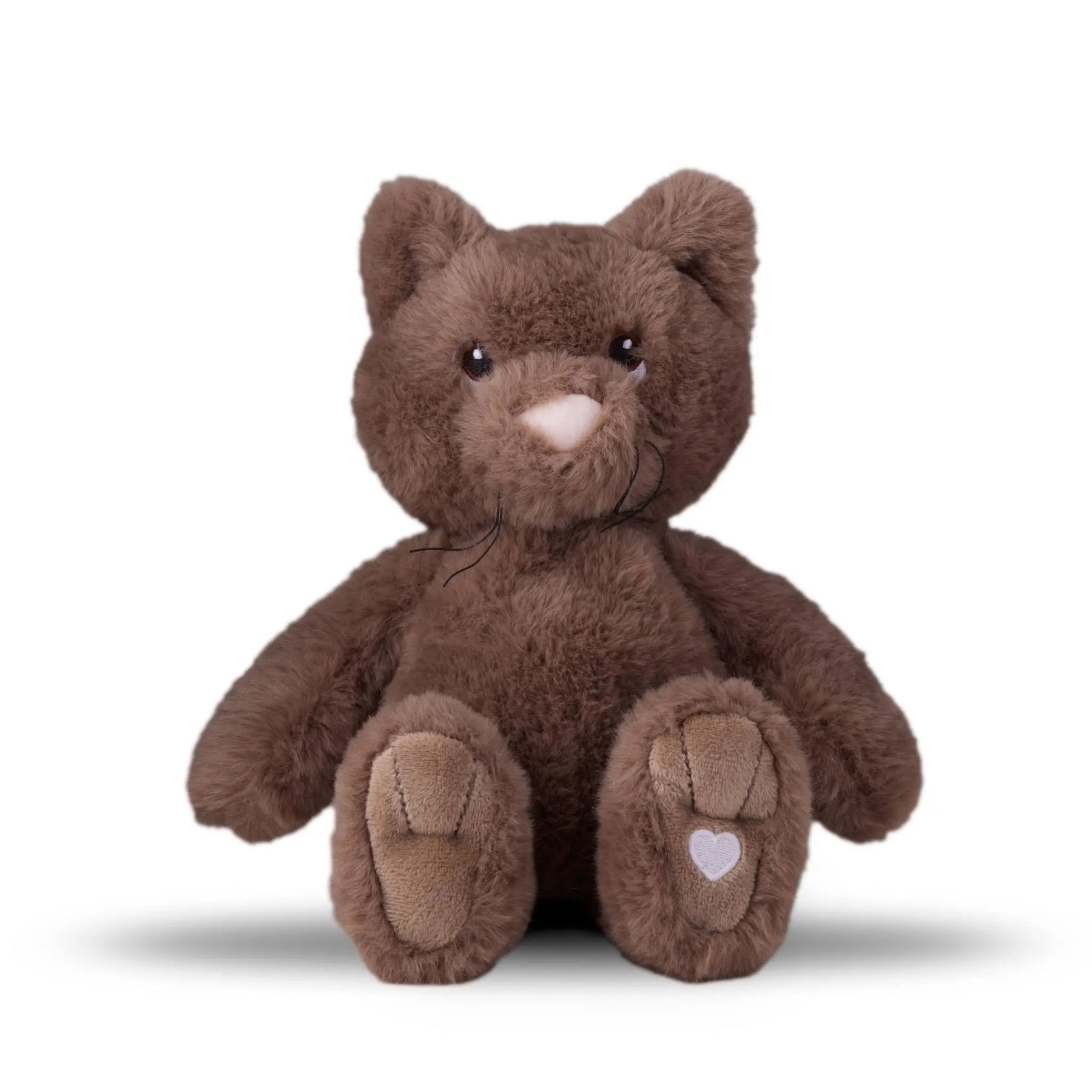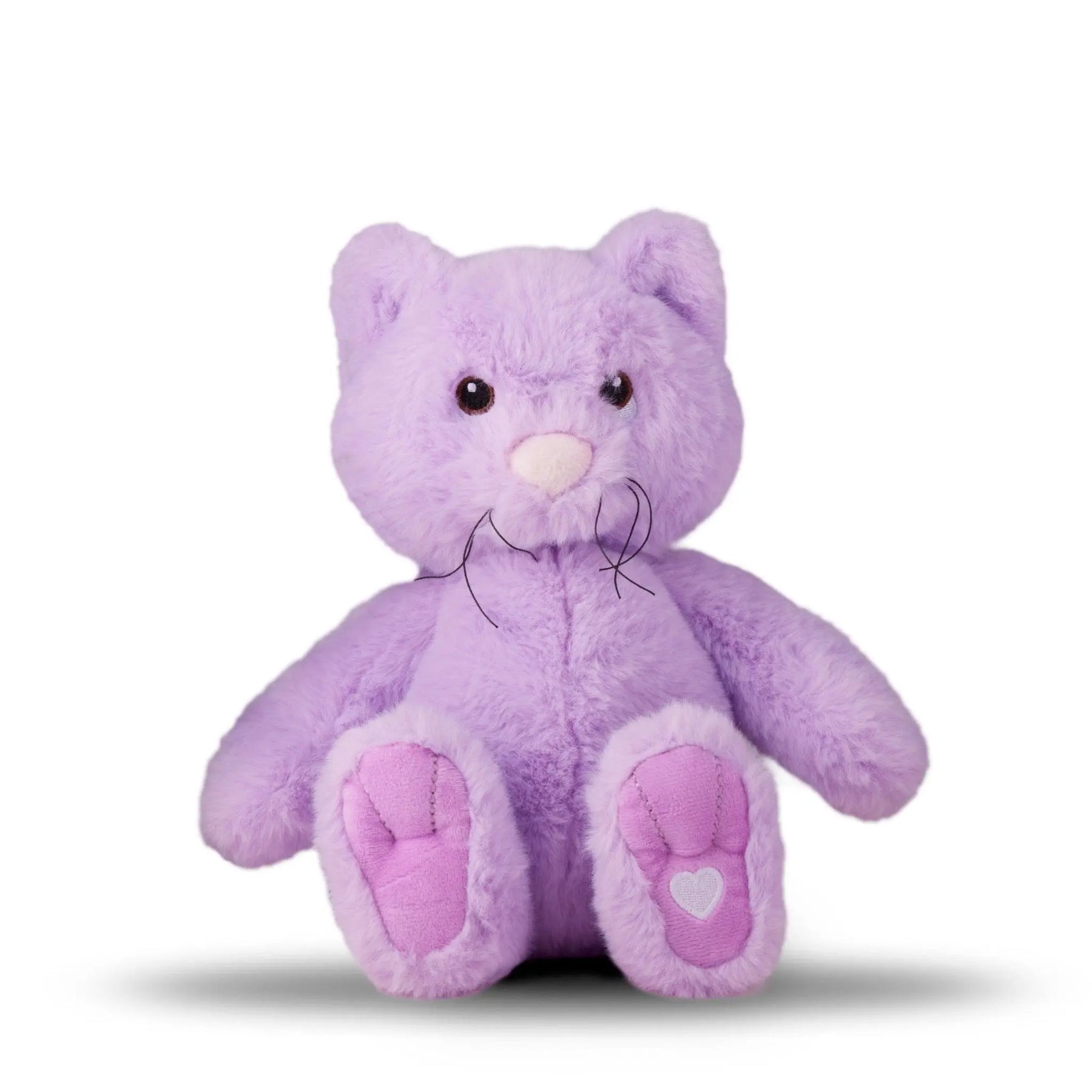 Xander Cat
With the cutest face and softest feel, Xander Cat isn't your ordinary stuffed Kitty!
He also has a pouch that holds lavender flowers and Michigan cherry stones that can be warmed up or cooled down for a soothing lavender scent that's perfect for bedtime! 
Our classic therapy stuffed cat is safe for babies, toddlers and kids of any age.
Simply warm the cat in the microwave for 20 seconds, to get 20 minutes or more of warmth and soothing, therapeutic support.
You can also set Xander in the sunshine to recharge the glow-in-the-dark heart on his paw! Plus, hand wash him to keep him clean and fluffy.
And not only will your favorite kids love Xander, but for every stuffed Xander  you buy, we will donate one to a child in foster care! Learn more here.
Xander Stuffed Cat comes in 5 colors: misty, marmalade, midnight, mocha, and lavender.
Order him for yourself or as a gift, add some cute clothing, or a gift box at checkout, and we'll ship him out right away!
Details on Xander Cat:
Size: Animal Shell is 13" x 8", and reusable, removable heat/cooling pack is 6" x 7"
Ingredients: Animal shell is hypo-allergenic polyester. Heat pack is filled with Michigan Cherry Stones and Lavender flowers
Care: Hand wash outer cover only with warm water and air dry
Packaging: Each Xander Cat comes in a Linen Keepsake Bag that doubles as a backpack, and a gift box is available for an additional $7.95.
Production: Filled, sewn and packaged in the USA, shell imported
Safety: Tested against and passed ASTM requirements. Suitable for newborns. Inspect frequently. Please do not leave in a cot/ crib according to your pediatrician's advisement
Copyright Registration: V Au 1-415-236
If you'd like to have both cats go to children in foster care, click here!
Received the wrong color
I ordered a Midnight car and received Mist. I was very disappointed as I wanted to give it to my 2 year old granddaughter, Poppy. It was going to be her first time on a plane and I thought it might soothe her. The shell came quickly but not in time for our trip. Just disappointed. I guess.
Wonderful as always!
Always happy with my stuff from here! This adorable kitty is a back-up "lovey" for my granddaughter to bring to pre-school. :)
Outstanding service!
Always a great company to send beautiful gifts to my friends I made an error and had the wrong address to send and caught it right away called and left messages and promptly got a call back saying they caught it and is sending it onto the right person. Beautiful Items. Great service!
Love love love!
Bought each kid/grandkid a bunny years ago. Now I got them kitties and I even bought one for myself! Priced good for the high quality and love that you donate 1 for each one I purchase. Thank you 😊
Love all
Thanks for being so helpful and sharing with the kids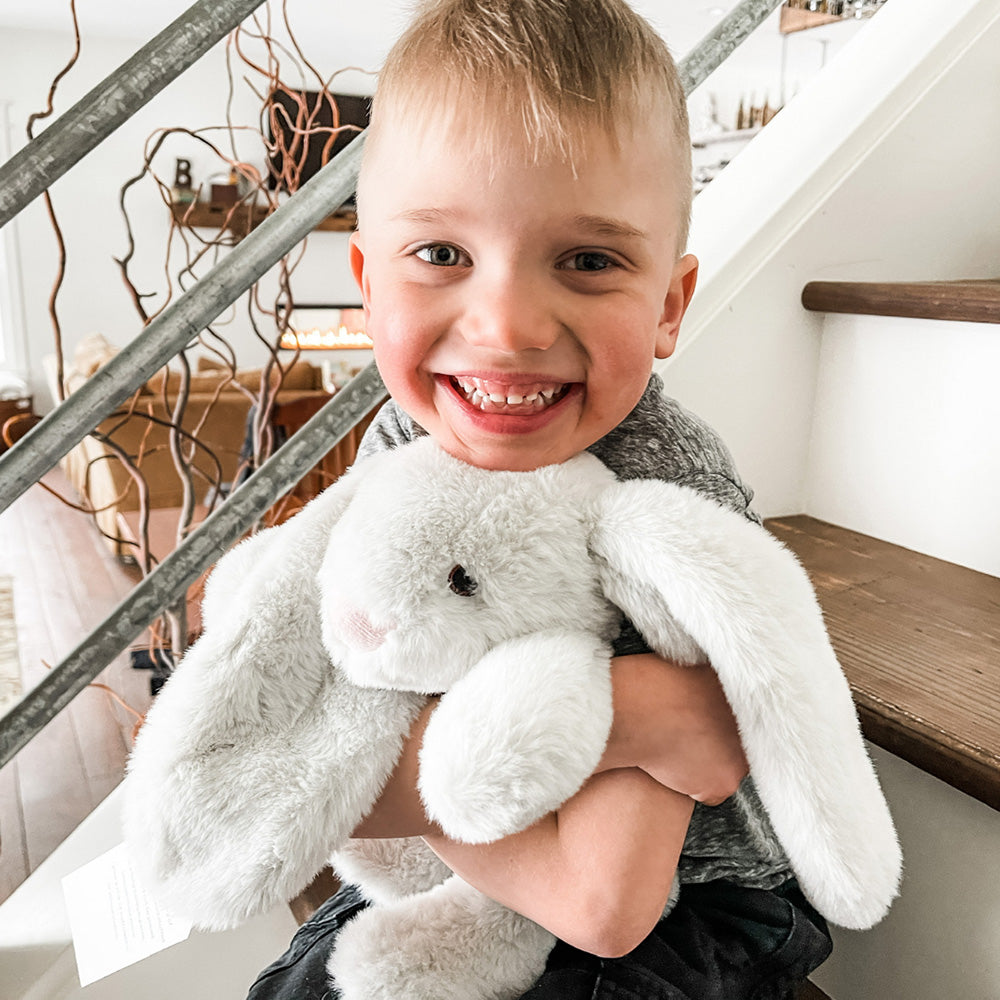 79,676 Xander Friends Donated
How We Give Back
For each and every Xander Bunny you purchase, we donate one to a child in foster care. This soft, warmable animal is filled with fresh Lavender flowers, grown in our fields, and soothing Michigan cherry pits. Designed for anyone who wants a bit of comfort or relaxation, this cuddly friend makes the perfect companion. Our mission is to give a warmable, Lavender filled Xander Bunny to every child in foster care.