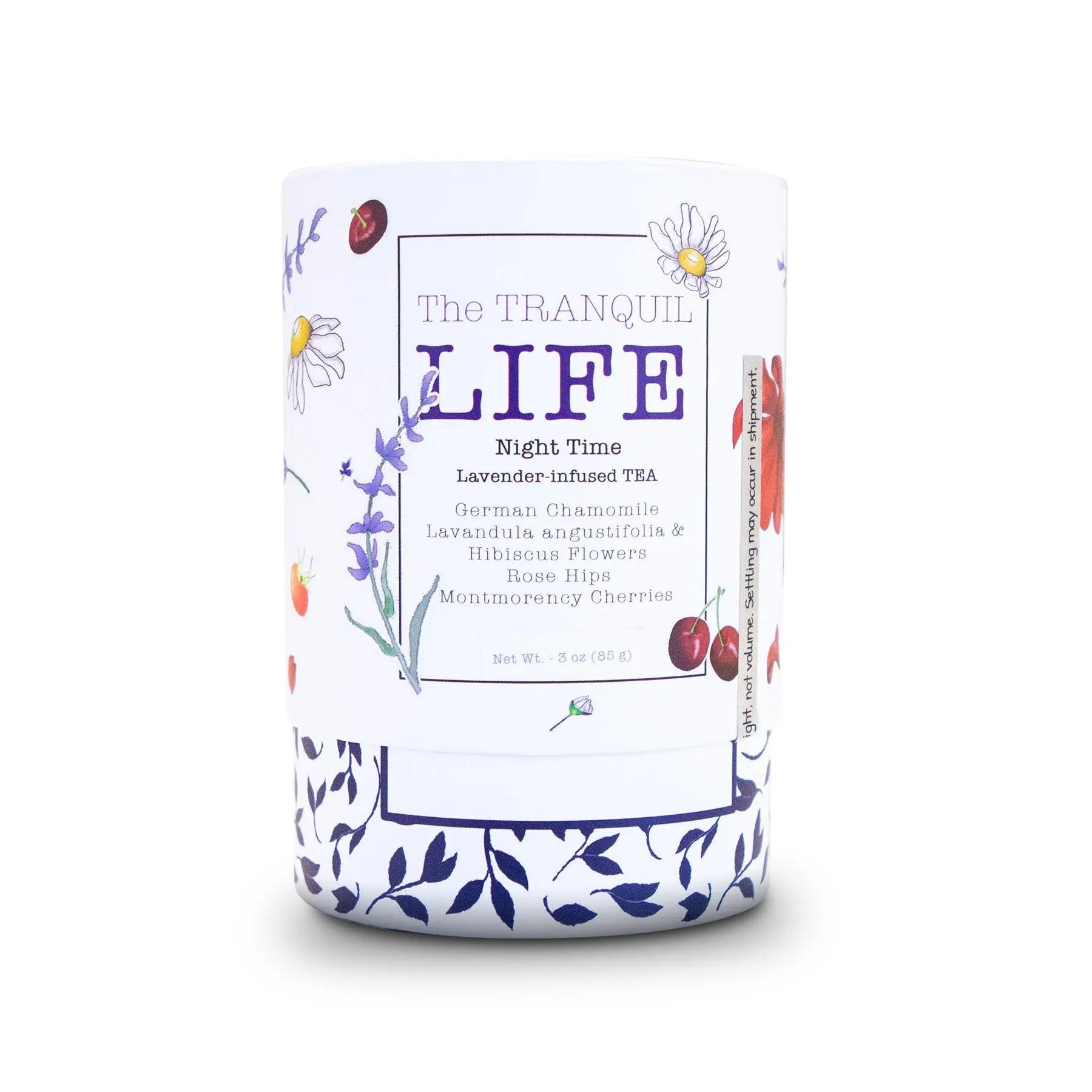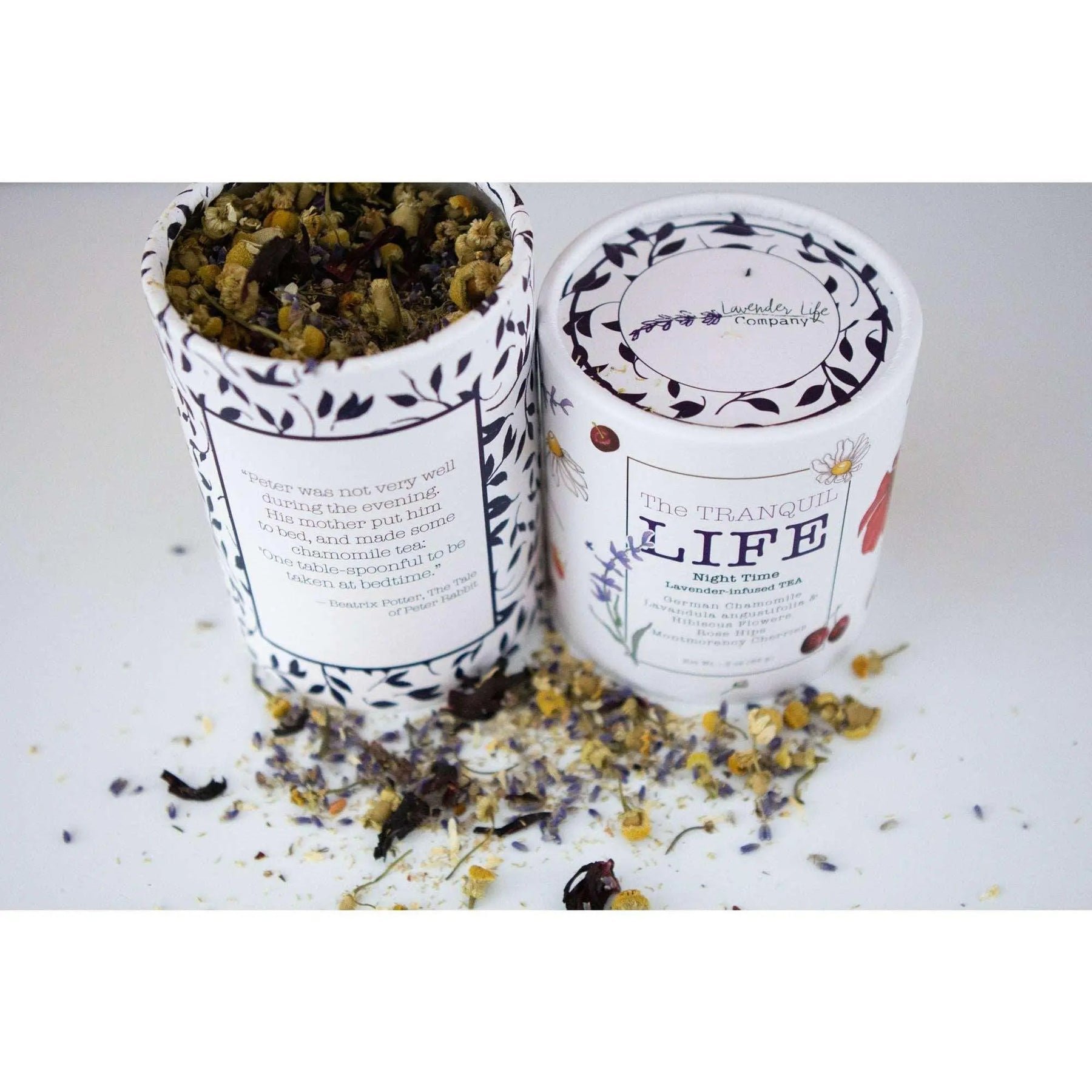 The TRANQUIL LIFE Night Time Lavender-Infused TEA
Lavender Nighttime Tea with Chamomile is Soothing and Relaxing!
A peaceful blend of lavender tea with chamomile, lavender, hibiscus, rosehips and cherries to soothe your mind and body and help you sleep at night. 
This lavender tea blend is naturally caffeine free for incredible relaxation at nighttime, or any time!
Lavender & Chamomile Nighttime Loose Tea Blend is Made With All-Natural Ingredients.
Featuring lavender buds grown right here on our family farm in Caledonia, Michigan! 
Experience better relaxation and know that you're sipping and savoring only the highest-quality tea!
Lavender nighttime tea ingredients:
Full German Chamomile Blossoms

Lavandula angustifolia Buds

Hibiscus Flowers

Rose Hips

Montmorency Cherries
Steeping Suggestions:
1-2 tsp./serving

212 degrees

5-7 minutes

Approximately 38 servings/3 oz. container
Tasty and Tangy
Lovely fresh herbs and additions. Could use a little more chamomile.
Tea
Love the Tranquil Life tea. Put some in the refrigerator to drink iced. We really enjoyed our visit to the farm - beautiful lavender and friendly people!
Sleep with Lavender!
I have to admit that I am not an avid tea drinker, but this tea is very good. I am thinking that having it about an hour before bedtime is very relaxing…. I will get more!
tea and room spray
i love the tea and the room/linen spray. so relaxing. and such fast shipping! thank you!
Wonderful!
So glad I purchased. Very good!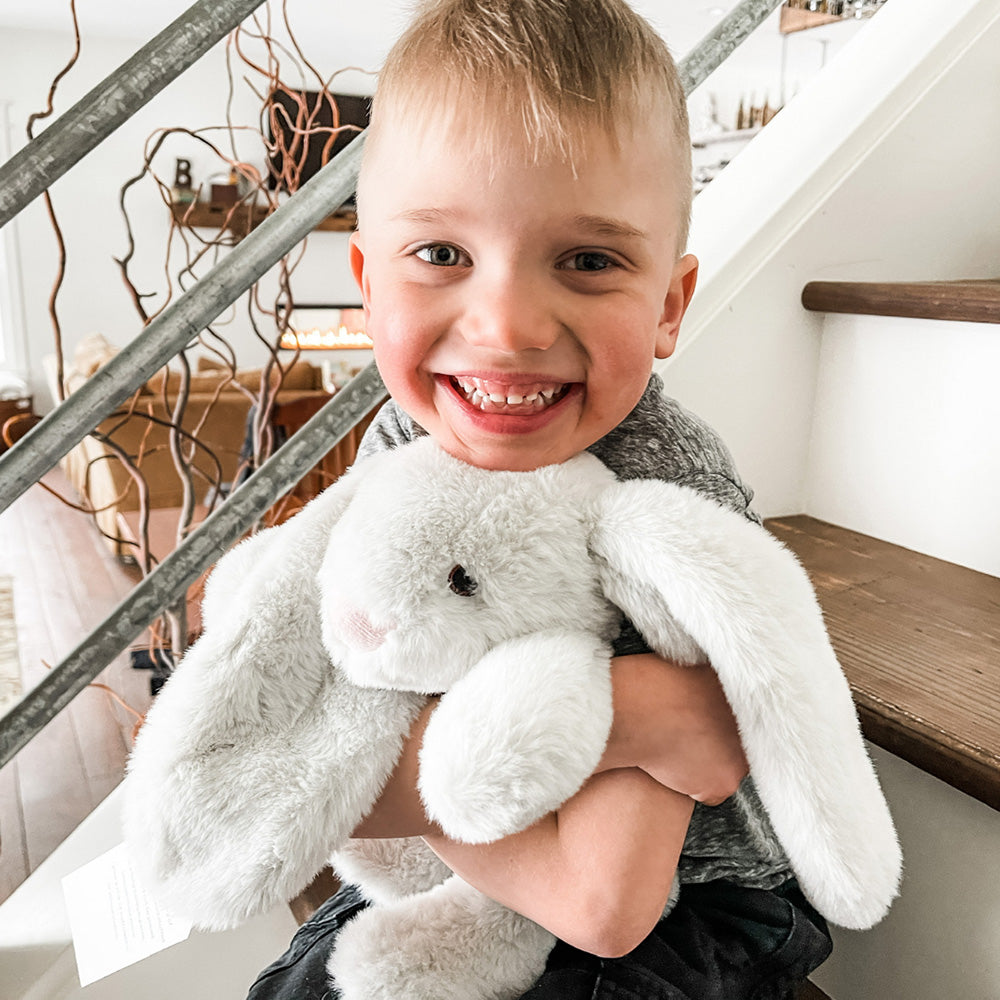 79,676 Xander Friends Donated
How We Give Back
For each and every Xander Bunny you purchase, we donate one to a child in foster care. This soft, warmable animal is filled with fresh Lavender flowers, grown in our fields, and soothing Michigan cherry pits. Designed for anyone who wants a bit of comfort or relaxation, this cuddly friend makes the perfect companion. Our mission is to give a warmable, Lavender filled Xander Bunny to every child in foster care.