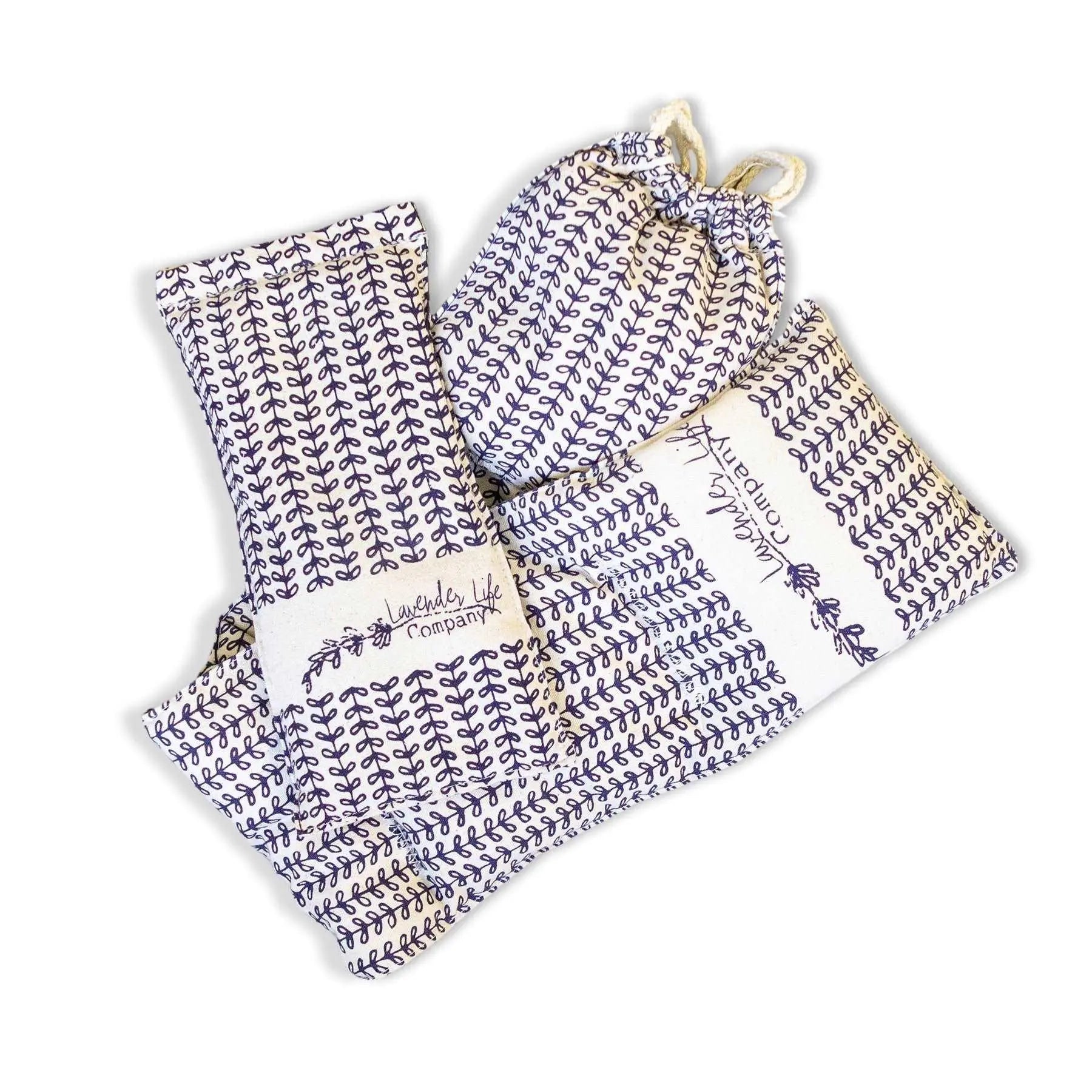 Lavender Comfort Therapy Duo - Neck Wrap & Eye Pillow
Warmable Lavender Neck Wrap + Comfort Eye Pillow + Gift Box = 1 Amazing Gift Set
This gift set duo of a microwavable, warming lavender neck wrap and a warming or cooling eye pillow make the perfect gift for Mother's day, birthdays or any day of the year.
Give the gift of ultimate relaxation - no wrapping required!
As featured on the Drew Barrymore Show! Drew loves our lavender comfort products so much, she gave them away to her audience.
Comfort Lavender Eye Pillow
We just couldn't create any old lavender eye pillow! We had to craft the best, and we did right here on our family farm in Michigan.
And we know how to relax. After nearly 34 years in the spa industry and a background in therapy, these luxury eye pillows were created to be used hot or cold. Simply stick it in the microwave for heat that lasts about 20 minutes, or put it in the freezer for a while to create a cooling sensation.
They are amazing at helping to relax away a tension headache, open up sinuses, relieve eye pain, TMJ pain and help relax you for a better night's sleep.
They pack nearly 1 lb. of non-GMO grains and of course, our own organic Lavender flower buds! The heat or cold lasts long enough to fully relax, and cast that heavenly, calming aroma of lavender.
With special care, this eye pillow will last for years to come. Do not wash. Spot treat if you must or cover with pillow case (not included).
Made in the USA- Right here on Lavender Life Farm in Michigan
100% Original Cotton
Filled with organic Lavender flower buds and Non-GMO rice
5" x 10" overall size
Click to learn more about our eye pillows >
Warming Lavender Neck Wrap
We just couldn't create any old warming neck wrap! We had to craft the best, and we did right here on our farm!
And we know how to relax away tension. These luxury, microwaveable neck wraps are large - 32 inches long and 6 inches wide - to cover your neck, or any achy-breaky part!
The are filled with nearly 4 lbs. of non-GMO grains and of course, organic Lavender flower buds! They hold the heat beautifully and cast that heavenly aroma of lavender for about 20 minutes after a quick zap in the microwave. 
With special care, this warmable neck wrap will last you for years to come. Do not wash. Spot treat if you must or cover with pillow case (not included).
Made in the USA 100% Original Cotton Filling: Lavender Buds, Non-GMO rice
BONUS: Includes 1 Oz Lavender Fog to refresh the scent over time.
Instructions for use: Begin with 3 minutes on high in the microwave. Add 30 seconds until it reaches the desired temperature. Only heat from room temperature. 
Click for more product details >
*Do not use if you have an allergy to lavender or rice. This product can cause burns. Do not ingest contents. Not suitable for children. Not suitable for use on infants or individuals who have poor circulation, diabetes or sensitive skin. 
So happy I found this gem!!!!
I am in love with everything I purchased. Opening the box when it arrived was like opening a gift. Every thing inside was packed with care and so beautiful too! I needed a new "rice sock" for my neck. I bought two different options and both are so wonderful. Added perk, they smell wonderful. The shower sprays are so nice too. They smell great and really add a nice touch to your shower. I also got a few lavender satchels for my closet. Now I get to enjoy the beautiful lavender scent in there too. Recommend 100%!!!
Great wrap and eye pillow
I really wanted a good lavender wrap. This one is very good and the eye pillow is wonderful!
Beautiful Gift
I received this beautiful gift from a dear friend of mine, and it couldn't be more perfect. It reminded me that it's ok to love on myself and relax a little. Packaging is very beautiful and product is awesome!
I. did not receive Neck Wrap & Eye pillow. It was not included with the blush baby toy. I sent the requested pic of the box and contents. Thank YOU
Thank you Della! Looks like you received your items. Appreciate you helping us out to trakc them down!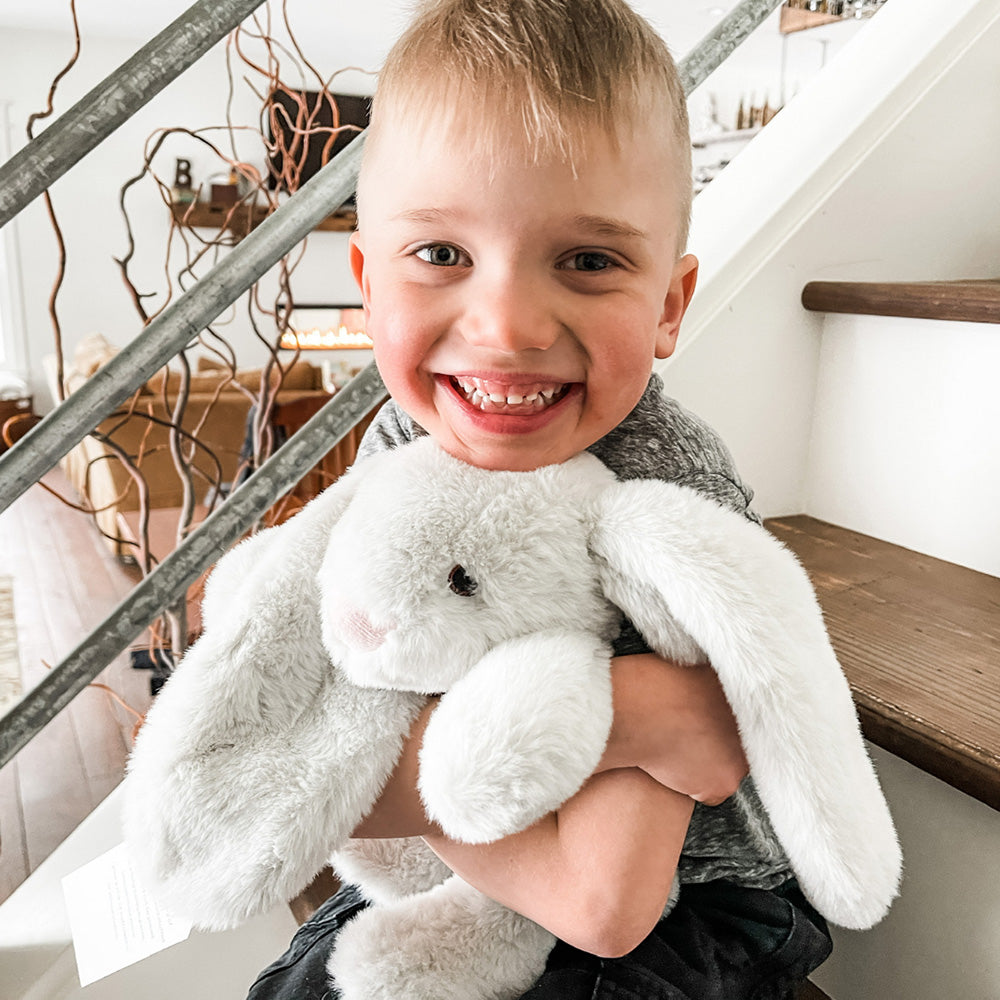 79,676 Xander Friends Donated
How We Give Back
For each and every Xander Bunny you purchase, we donate one to a child in foster care. This soft, warmable animal is filled with fresh Lavender flowers, grown in our fields, and soothing Michigan cherry pits. Designed for anyone who wants a bit of comfort or relaxation, this cuddly friend makes the perfect companion. Our mission is to give a warmable, Lavender filled Xander Bunny to every child in foster care.