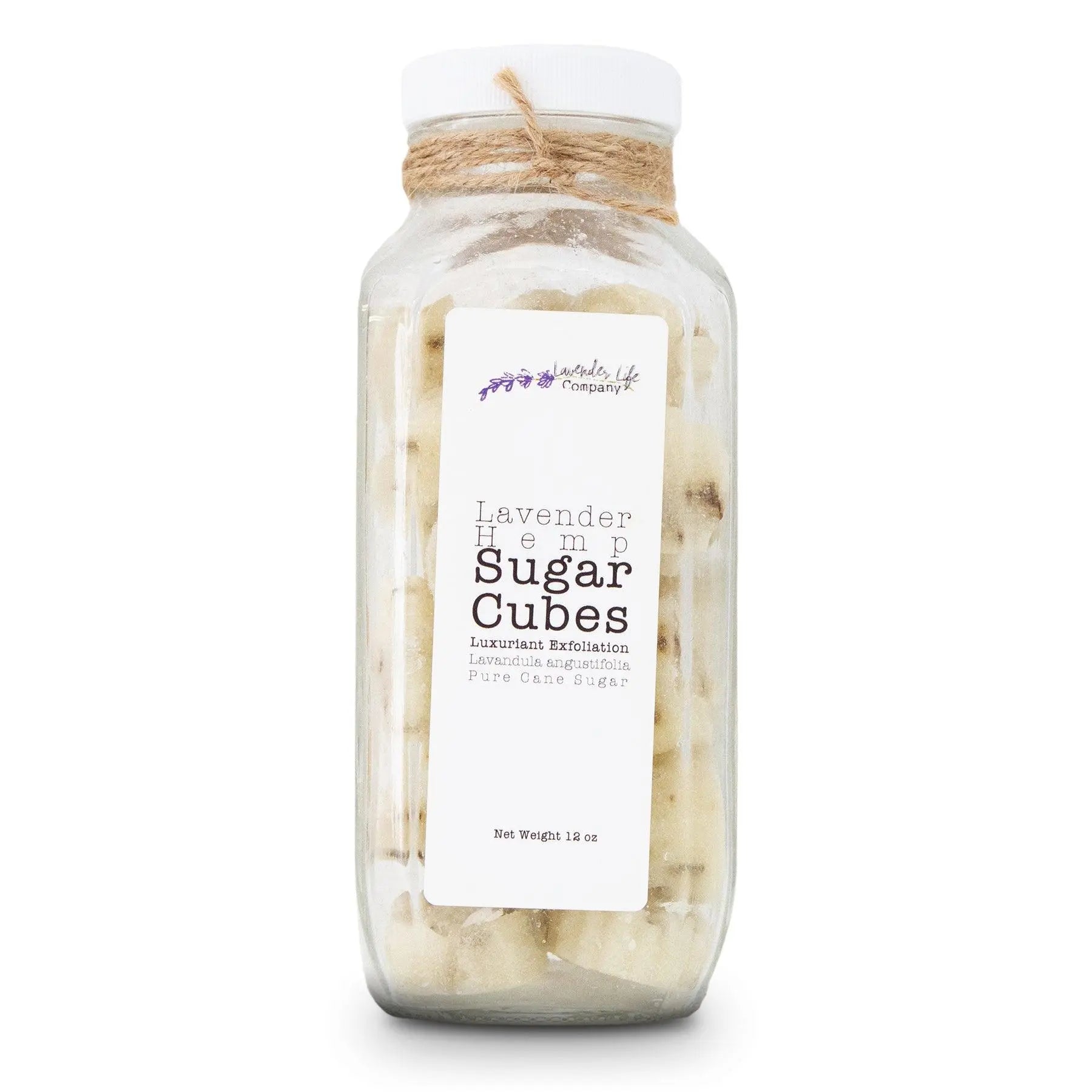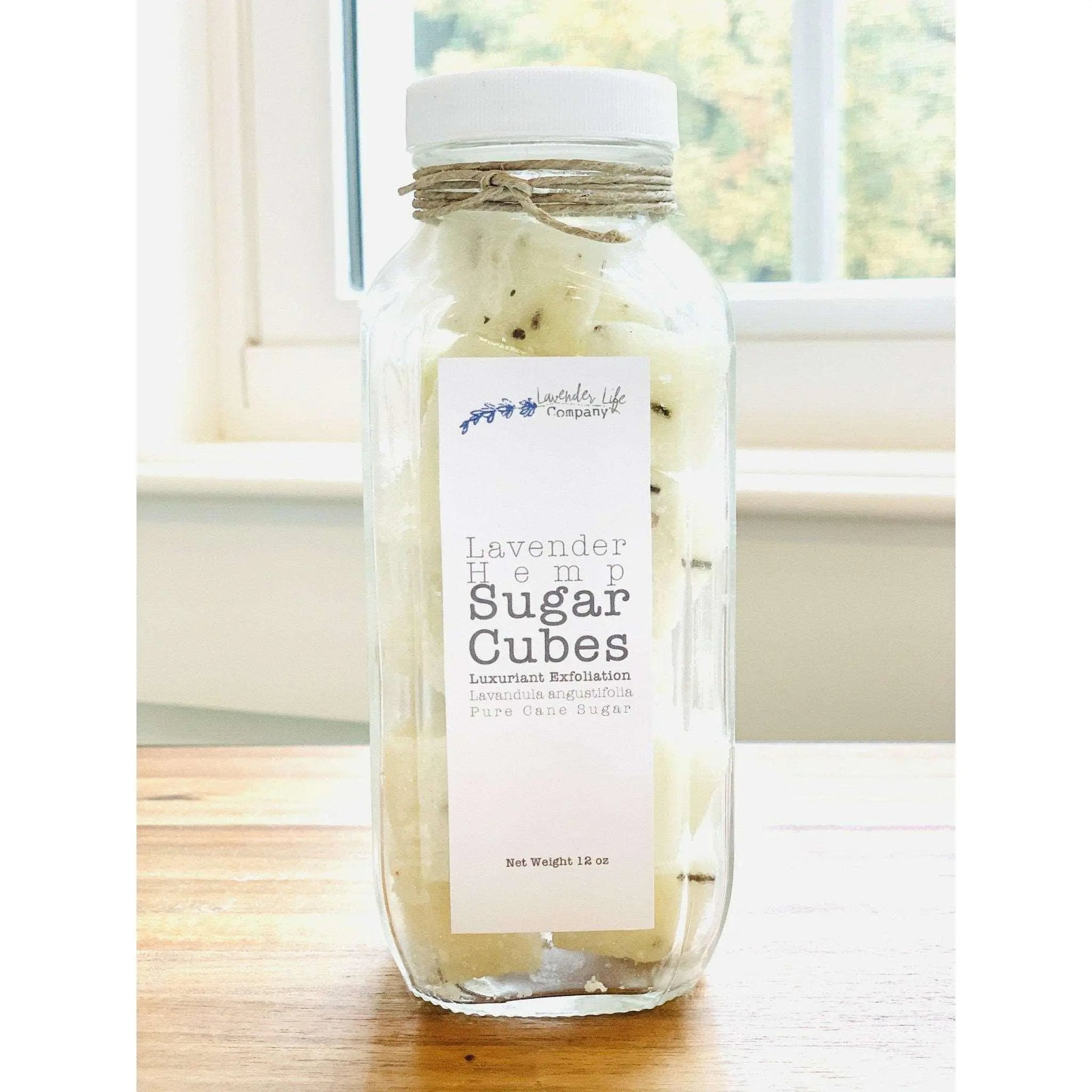 Lavender & Hemp Sugar Scrub Cubes
Exfoliate and nourish your entire body with the healing properties of both lavender and hemp oil with these sugar scrub cubes. 
Lavender-Hemp Sugar Cubes are sized perfectly for individual use - one cube is all you need to pamper your skin for days. 
Directions for lavender sugar scrub cubes:
To use - take a single cube with you in the shower or bath and gently massage over wet skin. (we like to break the cube up in our hands first with a little water!) Concentrate on any rough patches. Recommended use is twice a week, or whenever you need a little extra pampering. These are for body only. Do not eat.
Net weight 12 oz.
Made here on our farm in Caledonia, Michigan. No artificial ingredients added.
Ingredients (Common Name): Sugar, Sweet Almond Oil, Olive Oil, Palm Oil, Coconut Oil, Safflower Oil, Glycerin, Natural Hemp Seed Oil, Water, Sodium Hydroxide, Sorbitol, Propylene Glycol, Sorbitan Oleate, Oat Protein, Lavender Buds, USDA Lavender Essential Oil.
Love Lavender Life
Fast delivery one day only what great customer service!
Just started using the daily face care products about 3 months ago
I am in love the scrub and facial cleanser are absolutely wonderful ! The toner and moisturizer are working great I have noticed that some of the little lines are less noticeable
Highly recommend
Lavender & Hemp Sugar Scrub Cubes
Natural great smelling and makes feet so soft
I use 1 cube for my feet and break in half.
Makes feet soft and the Lavender smells great.
Easy to use and a great product.
Great Product
I just adore this sugar scrub cubes. I have always used scrubs, etc, but what a neat idea to make the scrub into a cube!! So easy to use. These will make great gifts too!
Hi Lori! The cubes are supposed to melt extremely slowly to use as a scrub for the whole body in the tub or shower- they should however be full of lavender fragrance- please reach out to Amanda for a replacement :)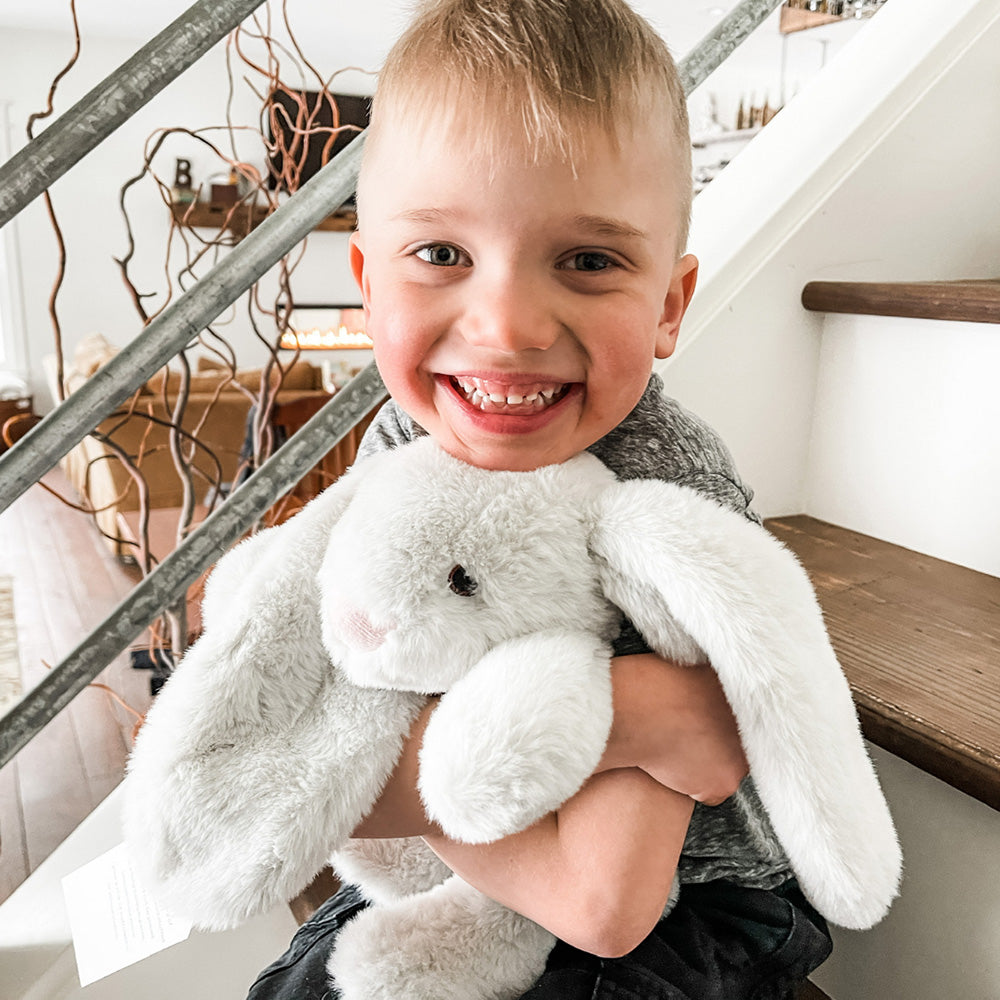 79,676 Xander Friends Donated
How We Give Back
For each and every Xander Bunny you purchase, we donate one to a child in foster care. This soft, warmable animal is filled with fresh Lavender flowers, grown in our fields, and soothing Michigan cherry pits. Designed for anyone who wants a bit of comfort or relaxation, this cuddly friend makes the perfect companion. Our mission is to give a warmable, Lavender filled Xander Bunny to every child in foster care.