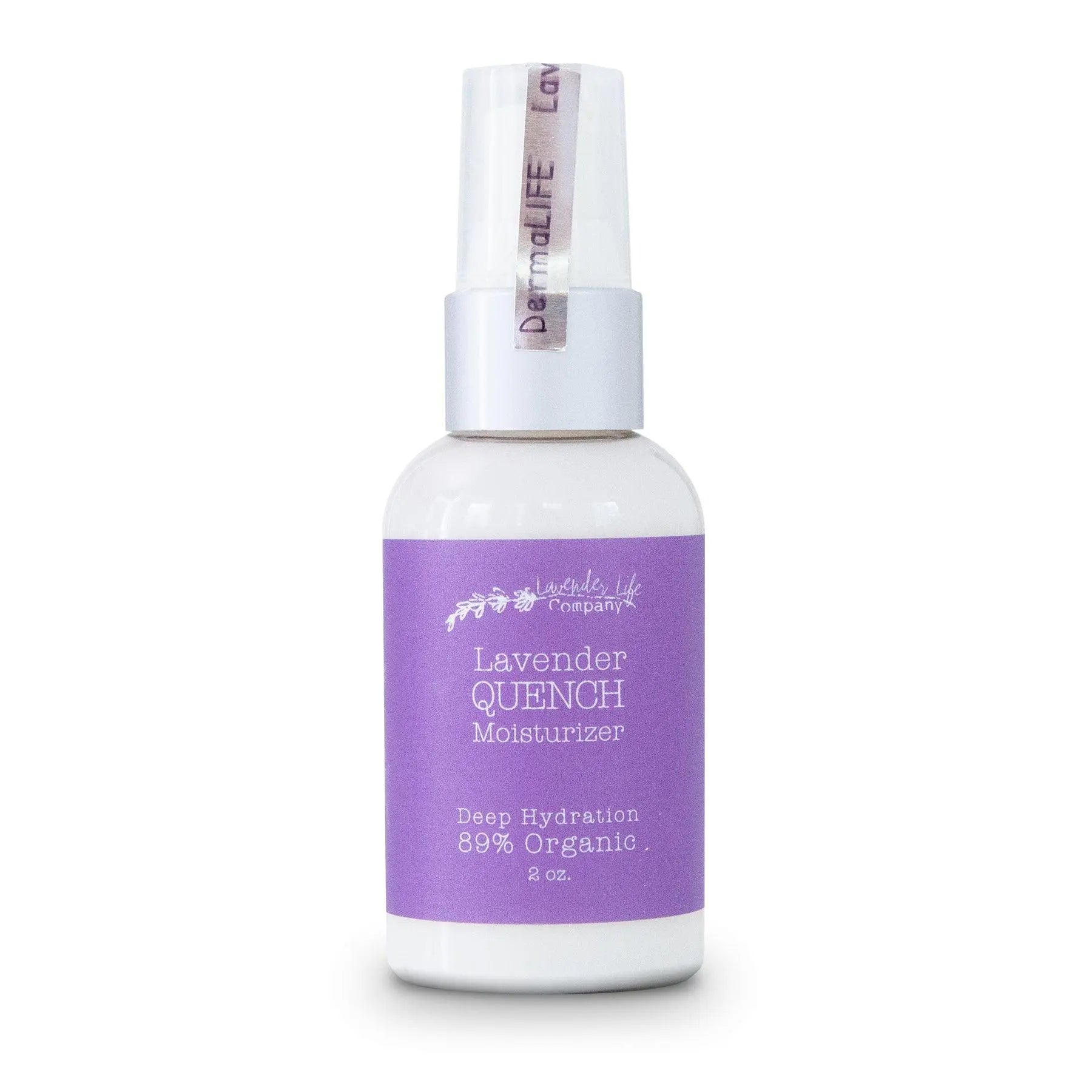 Natural Facial Moisturizer - Quench
DermaLife Quench, Organic Facial Moisturizer is Made with 100% Natural Botanicals for a Light, Luscious Feel.
Get softer, smoother skin with our lavender facial moisturizer that's 100% natural, organic and vegan! Pure botanicals not only attract moisture to your skin, they calm and restore its elasticity giving a youthful appearance instantly, without the heavy, sometimes greasy feeling of other moisturizers.
Quench facial moisturizer moisturizer feels so great, you may want one for your purse!
The calming scent of pure, organic lavender is just the beginning of this light and luscious moisturizer. It also contains organic coconut and sunflower oil, shea butter and more to hydrate and smooth your skin. 
Great for any type of skin - oily, dry, normal and anywhere in between. 
"Ooh, the soothing Lavender scent! This moisturizer absorbs quickly into my skin, and makes my face feel and look softer." - Usha B.
Use Quench Facial Moisturizer alone, or as part of our DermaLife natural skin care system.
The light feel and relaxing scent of Quench Facial Moisturizer makes it perfect for daily use. Never greasy or oily, it goes on smooth to fully hydrate your skin naturally!
To use it as part of our DermaLife natural skin care system, simply wash your face with our natural lavender face wash, and then use our botanical facial toner to tighten up your pores, then smooth on a little Quench Facial Moisturizer for the finishing touch. Your face will thank you!
89% Organic and Natural Ingredients:
Purified Water, Organic Coconut Oil, Organic Sunflower Seed Oil, Cetearyl Alcohol, Coco-Glucoside, Organic Shea Butter, Apricot Kernel Oil, Xanthan Gum, Phenoxyethanol, Organic (Aloe Vera) Leaf, Juice Powder, Citric Acid, Lavandula angustifolia, Tocopherol. Lactic Acid, Benzoic Acid, Dehydroacetic Acid
2oz. pump bottle
Love!
So far so good. Especially love the toner.
Smells wonderful, is relaxing and leaves face hydrated.
I really like this face moisturizer. It smells great, is relaxing and is natural. Leaves skin smooth but not greasy and absorbs leaving face feeling smooth and nourished.
Lavender Quench
Wonderful product.Easy to apply,only takes a small amount, makes face feel so nice and fresh. Also helps with age spots n fine lines .Smell is awesome.
Quench Facial Moisturizer
I love the light feel of the Lavender Quench Facial Moisturizer, as it easily glides over my dry skin and nourishes it. The smell is amazing!
Lavender Lotion and Farm Visit
I absolutely love the face lotion we purchased during the farm visit a few weeks ago. We picked fresh lavender, met the owners and I was finally able to see where all the special bunnies, puppies, and other warm pack friends are made. I personally have purchased bunnies for my littles, granddaughter, nieces and nephews and for friends. What a great cause. Thank you for all that you do.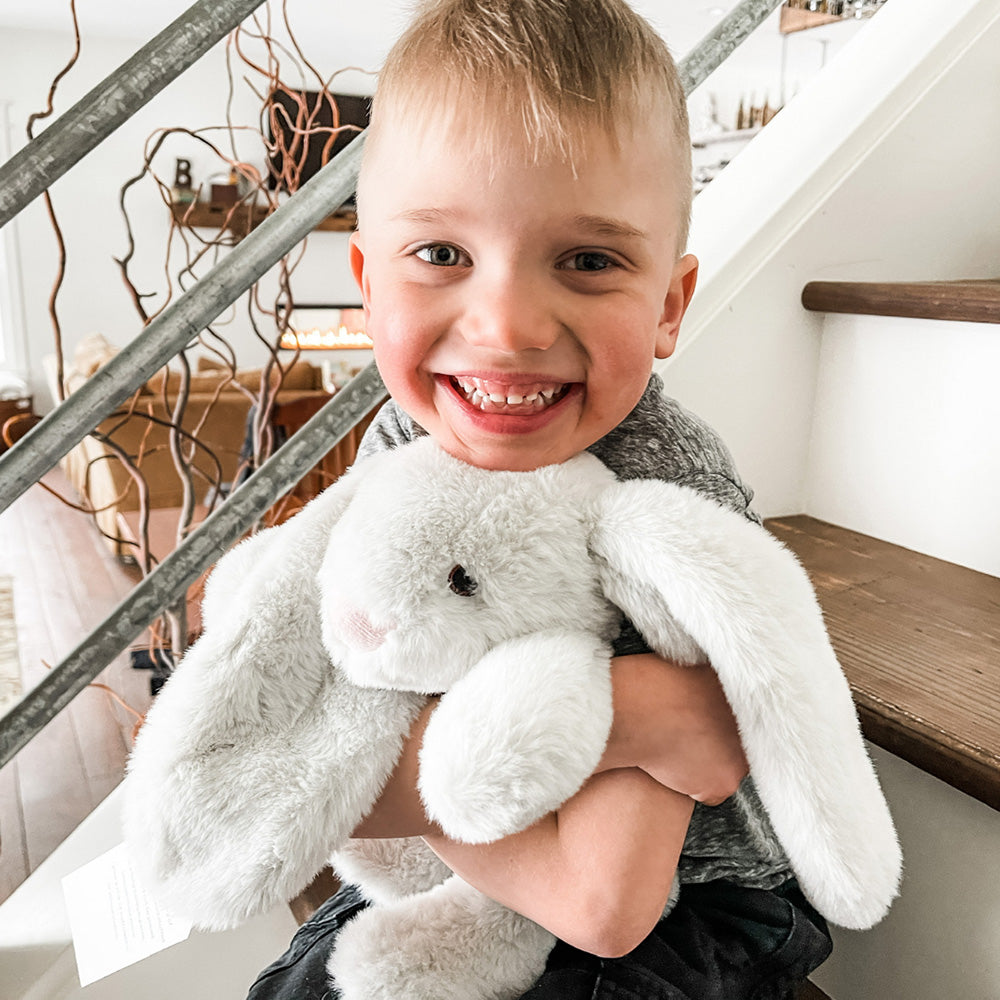 79,676 Xander Friends Donated
How We Give Back
For each and every Xander Bunny you purchase, we donate one to a child in foster care. This soft, warmable animal is filled with fresh Lavender flowers, grown in our fields, and soothing Michigan cherry pits. Designed for anyone who wants a bit of comfort or relaxation, this cuddly friend makes the perfect companion. Our mission is to give a warmable, Lavender filled Xander Bunny to every child in foster care.