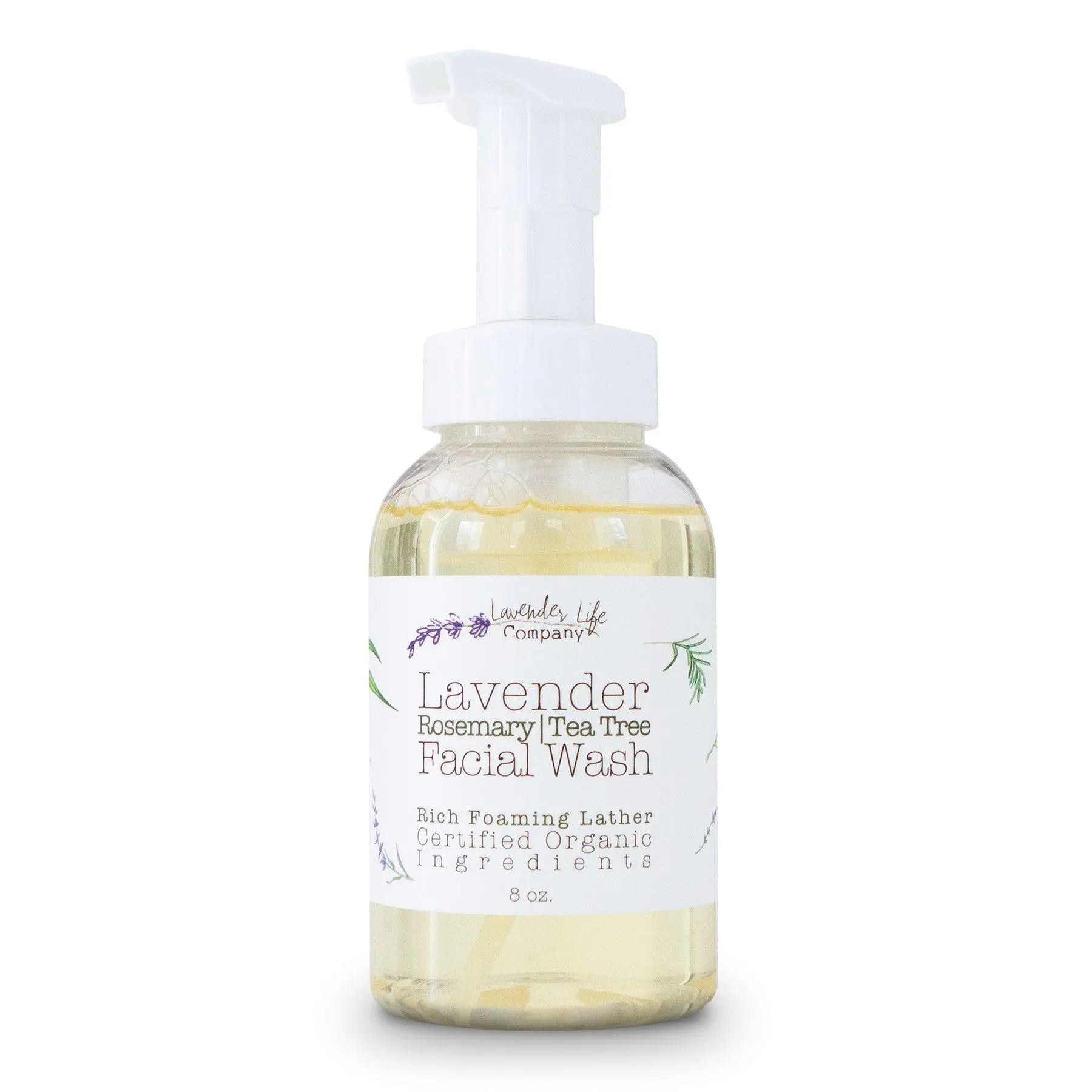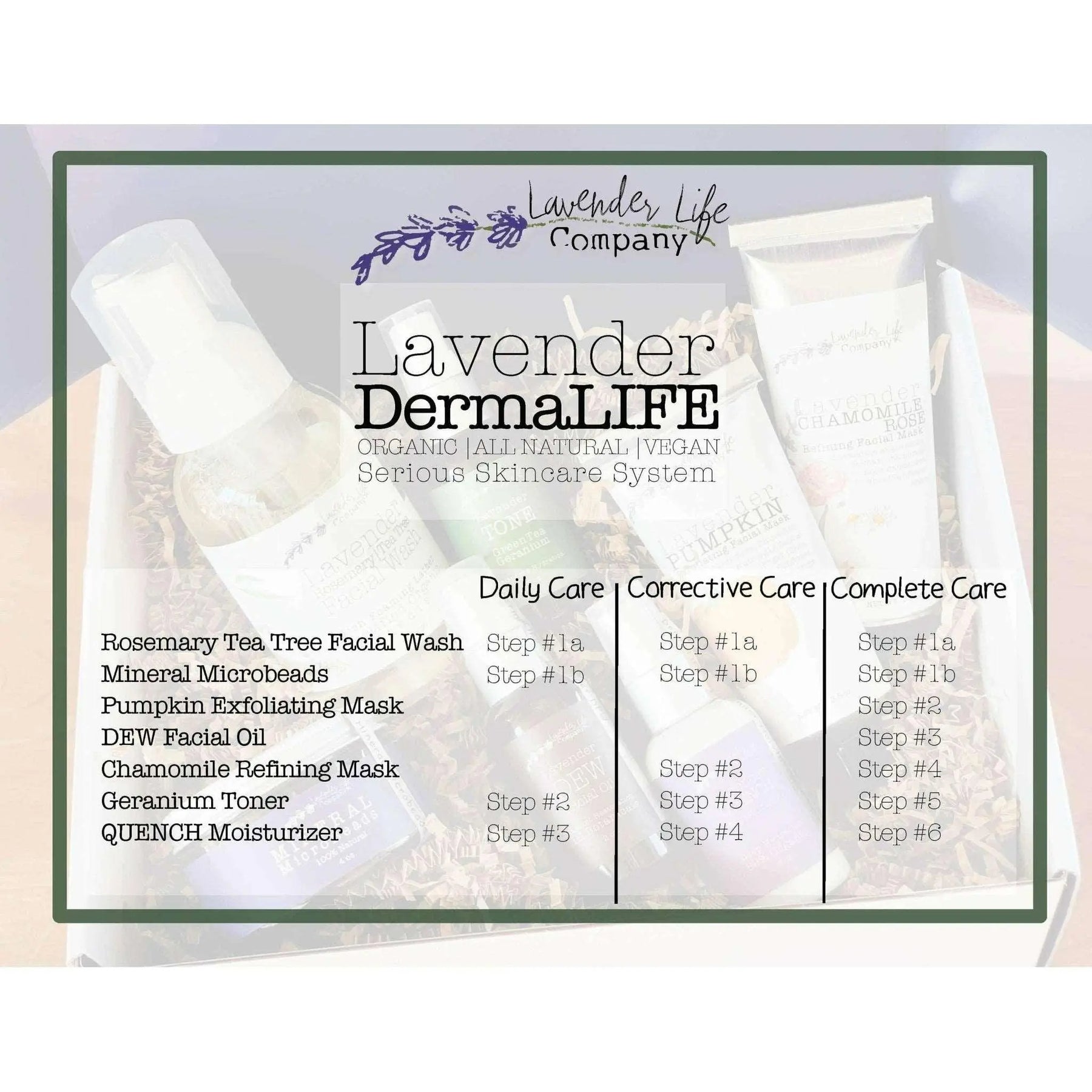 Facial Wash with Lavender, Rosemary & Tea Tree
An All-Natural Facial Cleanser with the Power of Lavender, Rosemary & Tea Tree is the first step in our organic skin care system.
A truly natural, organic foaming face wash that not only smells fantastic, it deeply washes and purifies your skin without stripping or drying it out! Use this natural facial cleanser every day for smoother, cleaner, more vibrant skin. It's great for all skin types, even those prone to acne and anyone who wants to reduce the signs of aging! 
Using certified-organic ingredients, DermaLife natural face cleanser has the relaxing and healing power of lavender, with the refining properties of rosemary and tea tree oil. 
Deep clean your face naturally with an organic and vegan botanical face cleanser from DermaLife! 
Simply pump a small amount of our foaming face wash in your hand, add a little water and deep clean your face naturally! Use it twice a day, morning and night, for smoother, more vibrant skin.
Use it alone, or as part of our DermaLife natural skin care system by adding mineral microbeads, lavender face masks, botanical toner and Quench moisturizer. 
Ingredients: 78% Raw Material Certified Organic to USDA NOP Standards. 
Distilled Water, Potassium Olivate, Potassium Cocoate, Citric Acid, Glycerin, Potassium Citrate, Lavendula Anguvstifolia, Rosmarinus Officinalis, Melaleuca Alternifolia.
8 oz. foaming pump bottle
Very pleased
No disappointment at all either product or delivery. Loved the cotton bag packaging. Nice surprise.
Facial wash
Love it! Cleanses gently but thoroughly, smells fantastic, and lasts a long time.
Smells great
This cleanser smells nice and is a good natural way to cleanse.
Smells wonderful and makes my face feel nice
Works great, refreshing, skin feels soft and smooth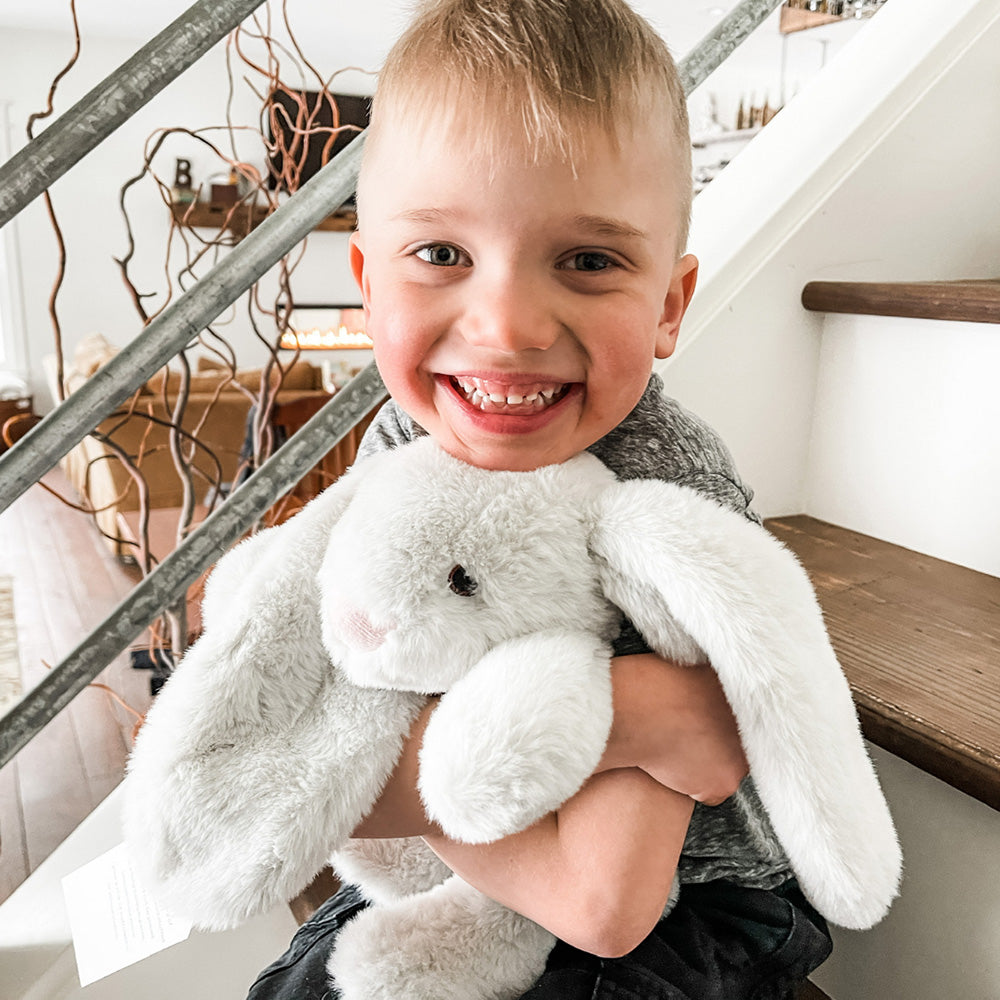 79,676 Xander Friends Donated
How We Give Back
For each and every Xander Bunny you purchase, we donate one to a child in foster care. This soft, warmable animal is filled with fresh Lavender flowers, grown in our fields, and soothing Michigan cherry pits. Designed for anyone who wants a bit of comfort or relaxation, this cuddly friend makes the perfect companion. Our mission is to give a warmable, Lavender filled Xander Bunny to every child in foster care.