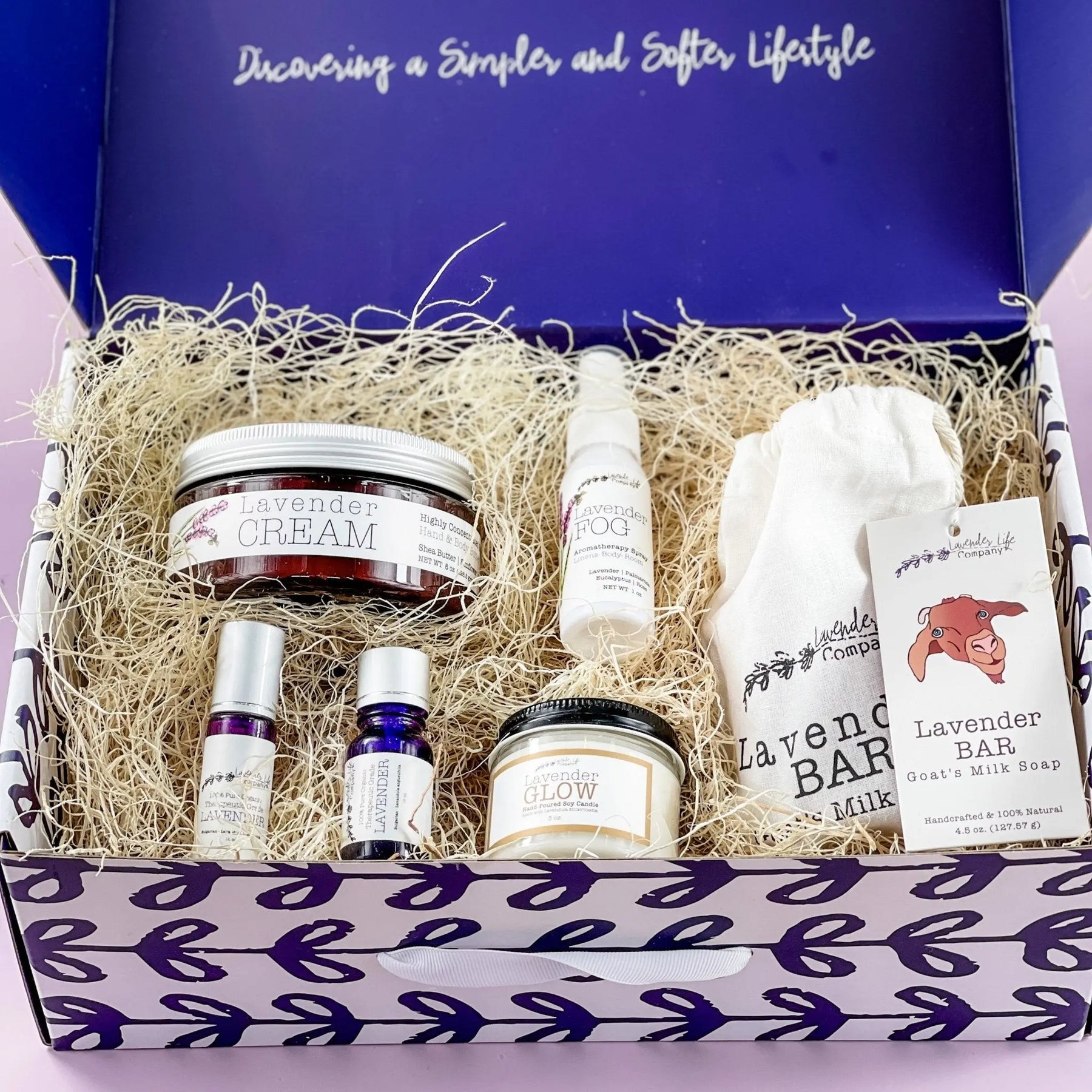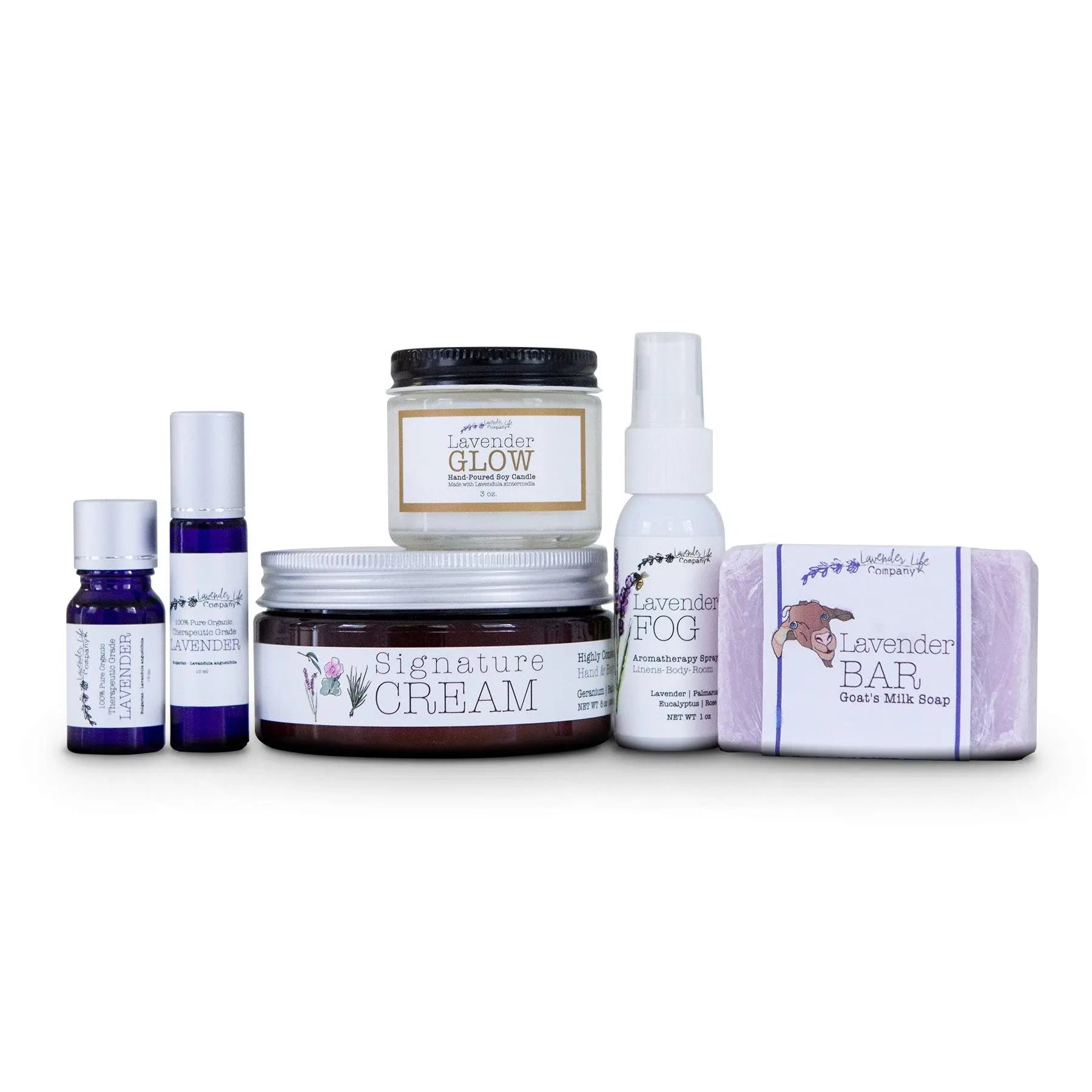 Ultimate Lavender Gift Set - Lotion, Soap, Candle & More
The Ultimate Lavender Lovers Gift Set, brimming with our signature ingredient - Lavender!
The perfect gift set - give the gift of relaxation! Contains lotion, soap, candle, room spray and essential oils.
Each package comes in its own gift box ready to give! 
Lavender Cream - Concentrated Shea Hand and Body Butter, 8oz. Hand & Body Butter Absorbs quickly and deeply, nourishing and defending skin naturally! Oh, and you are gonna love the rich lavender aroma! Learn more
Lavender Bar Soap- Goats Milk Soap, 4.4 oz.  This 100% all natural, hand-crafted, bar soap is extremely emollient for all skin types. Lavender calms irritated dry skin, while the goats milk smooths and softens. Plus, it just smells so darn good! Learn more
Lavender Fog - 1 oz Room, Linen and Body Spray. Shake/Mist/Enjoy! Perfect for any water safe surface. Learn more
Lavender Essential Oil Roll-on - undiluted 10ml. Convenience is key! Roll-ons are fantastic to throw in your purse, briefcase, diaper bag- Roll directly on to the skin. This is not a diluted product with any carrier oil. Please check for sensitivity before use. Learn more

Lavender Essential Oil Dropper - undiluted 10ml. Lavender essential oil 100% USDA Certified Organic undiluted. This is the centerpiece of our Lavender Life Company. Learn more

Lavender Essential Oil and Fragrance Soy Candle - Soy Wax 3 oz. There's nothing more relaxing than lighting a soft lavender candle. Ours are hand-poured natural soy wax with real lavender oil. The burn is clean and lasts over 30 hours. Learn more


We had a great time putting this set together, and we hope you enjoy this product as much as we do!
Ultimate Lavender Gift Set - Lotion, Soap, Candle & More
Lavender Essential Oil-SO GOOD
This is the second time I've ordered from the Lavender Life Company. What I love the most is that they are based in the US and you can feel the love they have for their products in everything they do. The packaging, the little free gifts (love the sample lotion and bought it), and the community involvement. Thank you for doing what you love. The lavender syrup, the honey, the lotions-made with love! THANK YOU!!!
Lavender CREAM - Aromatherapy Hand & Body Cream -Lotion 8 oz or 16 oz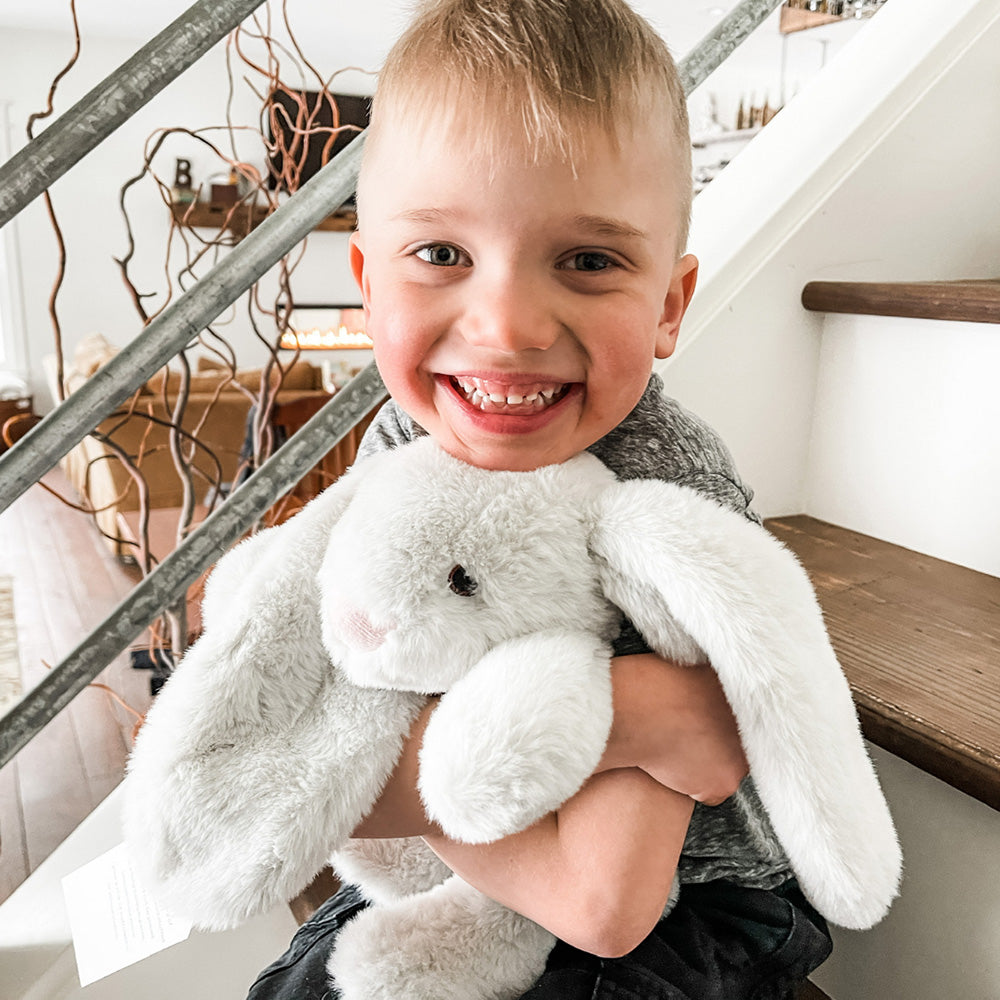 79,676 Xander Friends Donated
How We Give Back
For each and every Xander Bunny you purchase, we donate one to a child in foster care. This soft, warmable animal is filled with fresh Lavender flowers, grown in our fields, and soothing Michigan cherry pits. Designed for anyone who wants a bit of comfort or relaxation, this cuddly friend makes the perfect companion. Our mission is to give a warmable, Lavender filled Xander Bunny to every child in foster care.